Car Insurance Buying Secrets Unlocked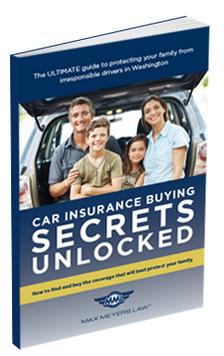 Request Your Free Book Today!
Read this book before renewing your auto insurance or calling around for quotes!
In this book you'll learn . . .
• What's the insurance that will pay your medical bills even if an accident is your fault?
• What are the 10 secrets insurance companies don't want you to know about auto insurance?
• Discover the most important insurance you can buy!
...And much more!
Only Washington residents receive this book for free.

I have written this book so consumers have good information about the basics of insurance policies. I believe this information will help you protect your family against irresponsible drivers. After speaking with my clients, friends, and family and asking them what they knew about their own car insurance policies, I discovered the insurance industry has done a poor job of educating its consumers. As you will see, in my opinion this is not a mistaken oversight on the part of the insurance industry. Rather, there appears to be a deliberate attempt to keep consumers in the dark about the most important car and motorcycle insurance they could buy.

Table of Contents
Part I: The truth about insurance today.
Part II: What is auto insurance?
Part III: What is Personal Injury Protection (PIP) coverage?
Part IV: What's the most important insurance you can buy?
Part V: Is there any difference between motorcycle and car insurance in Washington?
Part VI: Why doesn't the insurance company issue a report and recommendation just like this?
Part VII: Ten secrets your insurance company won't tell you.
Part VIII: Less is More.
Part IX: About my practice.
Car Insurance Buying Secrets Unlocked is loaded with information that is helpful to anyone who wants to have the best protection for their family. Most people don't know what insurance coverages are key to protecting you and your family in case of a serious auto accident. This book unlocks the secrets insurance companies will never tell you.