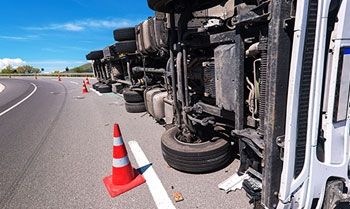 Despite a recent decline in truck accident fatalities and injuries in Washington state, there are still far too many on our roads, a lot of which are preventable. Due to a truck's sheer size, an accident often has deadly or catastrophic results. Semi-trucks are 70 to 80 feet long and can weigh up to 80,000 pounds. The average car, by comparison, weighs about 5,000 pounds. The force a truck has upon impact with a passenger car is absolutely astronomical. Car drivers often sustain grave or catastrophic injuries, such as:
traumatic brain injuries;
severed limbs;
crushed bones;
spinal cord injuries; and
internal organ damage.
With severe injuries, victims face an uphill physical, emotional, and financial battle well into their futures. Fortunately, an injured party can seek compensation after the accident, which can help to pay medical bills, make up for lost wages, and account for long-term medical care and/or rehabilitation.
If you were injured in an accident with a semi-truck in the Bothell, Kirkland, Redmond, Bellevue, or King County, WA areas, you must act fast. There's a good chance the trucking company's attorneys and insurance adjusters have already been to the scene of the accident and gathered the evidence they need to build their case. Truck accident cases require major investigative work. Often experts must be hired to analyze the logistics of the accident, and evidence must be collected and preserved immediately. This isn't a time when you want to drag your feet. This is a big deal.
Holding Responsible Parties Liable
Truck accident cases are complex because it is hard to pinpoint and prove the causes of the accident. It can be difficult to ascertain which party is at fault, such as the trucking company, a parts manufacturer, etc. Furthermore, trucking companies often hire attorneys to dispute negligence and to help get them out of paying for victims' damages.
Therefore, it's important to discuss your options with an attorney as soon as possible and preserve your claim. A lawyer helps you: determine who is liable; move forward with a claim for compensation; and protects your rights in the process.
To determine your eligibility for filing a personal injury or wrongful death claim after a truck accident, contact our office today to schedule a no-cost, no-obligation case review.
Primary Causes of Semi-Truck Accidents
At Max Meyers Law, we have handled truck accidents caused by a variety of negligent reasons, including:
Speed-related accidents, caused by pressure on the driver from the trucking company to drive faster;
Poor vehicle maintenance;
Truck driver fatigue;
Distracted driving*;
A defect in the vehicle that occurred during design or manufacturing;
Unsafe driving conditions; and
Driving under the influence of drugs or alcohol.
*Washington's Strategic Highway Safety Plan, Target Zero, highlighted the primary causes and contributing factors in accidents involving large trucks. Alcohol and speeding were not major issues, nor was poor driver training. The main cause? Distracted driving. In 20 percent of all fatal truck accidents in 2012, the truck driver was distracted, the report states. Distraction can come in many forms on the road, from texting or scrolling through Facebook feeds to eating or fumbling with a cigarette lighter.
When a driver takes his or her eyes off the road to read a text for five seconds without looking up while traveling 55 mph, the truck travels the entire length of a football field. "Texting while driving isn't multitasking; it's essentially driving blind," cautions the Ad Council.
Legal Counsel for Semi-Truck Accident Victims in Washington
If you or a family member were recently involved in a truck accident in Washington, call our firm, Max Meyers Law PLLC, today. You can contact us to schedule a free, no-obligation consultation at 425-399-7000​.