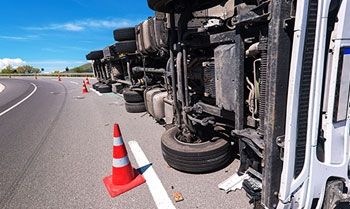 Washington Truck Accident Attorney
Despite a recent decline in truck accident fatalities and injuries in Washington state, there are still far too many on our roads, a lot of which are preventable. Due to a truck's sheer size, an accident often has deadly or catastrophic results. Semi-trucks are 70 to 80 feet long and can weigh up to 80,000 pounds. The average car, by comparison, weighs about 5,000 pounds. The force a truck has upon impact with a passenger car is absolutely astronomical.
---
Frequent Injuries Associated With Semi-Truck Accidents
Car drivers often sustain grave or catastrophic injuries, such as:
traumatic brain injuries
severed limbs
crushed bones
spinal cord injuries
internal organ damage
With severe injuries, victims face an uphill physical, emotional, and financial battle well into their futures. Fortunately, an injured party can seek compensation after the accident, which can help to pay medical bills, make up for lost wages, and account for long-term medical care and/or rehabilitation.
If you were injured in an accident with a semi-truck in the Bothell, Kirkland, Redmond, Bellevue, or King County, WA areas, you must act fast. There's a good chance the trucking company's attorneys and insurance adjusters have already been to the scene of the accident and gathered the evidence they need to build their case. Truck accident cases require major investigative work. Often experts must be hired to analyze the logistics of the accident, and evidence must be collected and preserved immediately. This isn't a time when you want to drag your feet. This is a big deal.
---
Semi and Heavy Truck Accident Statistics
Nationwide Data
In 2020, there were 12,646 people (4,965 who were killed) in fatal accidents that involved a large truck in the United States. Another 279,927 people were involved in injury-only motor vehicle crashes with large trucks.
Washington State Truck Accident Statistics (2022)
Total Motorcycle Crashes - There were 242 heavy trucks involved in 227 crashes
Fatal Motorcycle Crashes - 78 people were killed in Washington semi or other heavy truck accidents in 2022
Serious Injuries -149 people suffered serious injuries in the state of Washington as a result of a heavy truck crash
Minor Injuries - 395 people suffered minor injuries in heavy truck accidents on Washington roads
Possible Injuries - 567 people had possible injuries in accidents involving commercial trucks
King County Truck Accident Statistics (2022)
Total Heavy Truck Crashes - There were 65 heavy trucks involved in 62 crashes
Fatal Heavy Truck Crashes - 18 people were killed in Washington semi or other heavy truck accidents in 2022
Serious Injuries - 44 people suffered serious injuries in the state of Washington as a result of a heavy truck crash
Minor Injuries - 116 people suffered minor injuries in heavy truck accidents on Washington roads
Possible Injuries - 207 people had possible injuries in accidents involving commercial trucks
---
Common Causes of Semi-Truck Accidents in Washington
At Max Meyers Law, we have handled truck accidents caused by a variety of negligent reasons, including:
Speed-related accidents, caused by pressure on the driver from the trucking company to drive faster
Poor vehicle maintenance
Truck driver fatigue
Distracted driving*
A defect in the vehicle that occurred during design or manufacturing
Unsafe driving conditions
Driving under the influence of drugs or alcohol
*Washington's Strategic Highway Safety Plan, Target Zero, highlighted the primary causes and contributing factors in accidents involving large trucks. Alcohol and speeding were not major issues, nor was poor driver training. The main cause? Distracted driving. In 20 percent of all fatal truck accidents in 2012, the truck driver was distracted, the report states. Distraction can come in many forms on the road, from texting or scrolling through Facebook feeds to eating or fumbling with a cigarette lighter.
When a driver takes his or her eyes off the road to read a text for five seconds without looking up while traveling 55 mph, the truck travels the entire length of a football field. "Texting while driving isn't multitasking; it's essentially driving blind," cautions the Ad Council.
---
Common Types of Commercial Vehicle Wrecks in Washington
Every accident is different, but after years of working with clients injured in traffic collisions, it is easy to see how certain types of accidents involve these larger trucks:
Jackknife. This common type of semi-trailer crash occurs when the trailer being towed swings around the side of the truck itself, while still remaining hitched to that truck. When this happens, it looks as if the semi is folding in on itself like a jackknife. This type of accident typically occurs when a truck driver has to brake quickly. The brakes on the truck may lock up or slow the cab too quickly, while the forward momentum of the long trailer behind continues to move forward and out of alignment with the cab, causing the driver to lose control.
Rollover. As the name implies, this type of accident occurs when a semi-trailer, delivery truck, or even garbage truck attempts to take a turn too quickly. These big trucks are designed to carry heavy loads, which makes their center of gravity higher than a passenger vehicle. When the driver makes a sharp turn while moving too fast, that center of gravity pulls the truck onto its side opposite the turn.
Blowout. While an exploding tire on any vehicle can cause an accident, when one of the huge tires like those on big trucks has a blowout, it can cause serious damage and injury to other vehicles. One reason is that the loss of one or more tires in these large vehicles will make them difficult to control, causing the driver to crash. Another risk of a truck tire blow-out is the damaged tire hitting the surrounding cars and motorcycles with large fragments of steel-belted rubber as it breaks apart.
T-bone. Also known as a broadside collision, this type of accident typically occurs when a driver is passing through an intersection and is struck directly in the side by cross-traffic who drove through a stop sign or red light. Because large trucks have so much more weight than passenger vehicles, this type of accident has the potential to cause extensive damage and serious injury.
Head-on. As the name implies, a head-on collision happens when two vehicles are traveling on the same road, moving in opposite directions. If one of the vehicles crosses the center line and crashes into the car moving in the opposite direction, the combined weight and speed of the two vehicles can result in devastating injuries. When one of these two vehicles is a large truck using a powerful engine and carrying a heavy load, the results can be catastrophic.
---
Holding Responsible Parties Liable
Truck accident cases are complex because it is hard to pinpoint and prove the causes of the accident. It can be difficult to ascertain which party is at fault, such as the trucking company, a parts manufacturer, etc. Furthermore, trucking companies often hire attorneys to dispute negligence and to help get them out of paying for victims' damages.
Therefore, it's important to discuss your options with an attorney as soon as possible and preserve your claim. A lawyer helps you: determine who is liable; move forward with a claim for compensation; and protects your rights in the process.
To determine your eligibility for filing a personal injury or wrongful death claim after a truck accident, contact our office today to schedule a no-cost, no-obligation case review.
---
Six Things to Look for When Choosing a Washington Truck Accident Lawyer
When it comes to negotiating a settlement for your injuries after a truck accident, not just any attorney will do. Without the right Washington truck accident attorney, your settlement could fall short or face a complete denial if you do not file your claim promptly.
Not all attorneys are capable of handling truck accident claims, but that does not mean they will not agree to take your case. Therefore, it pays to ask questions when consulting with a prospective attorney. A little extra thought now will save you from the headache of trying to change attorneys or learning your claim could have been settled for more later.
The following are six questions to ask when researching attorneys in Washington State:
Does the attorney indicate he or she specializes in truck accident claims? Accidents involving a commercial vehicle are not the same as car-on-car accidents. In truck accident cases, you are seeking damages from a trucking company that has an extensive legal team on retainer to avoid awarding settlements for accidents like yours.
Can the attorney give you examples of cases they have handled similar to yours? A good Seattle truck accident attorney should have a few similar cases that he can share details about to indicate his experience. Case examples not only show you that this attorney has worked on truck accident cases before, but they also give you a better idea of how the truck accident claims process works and the value of a typical settlement.
How will the attorney communicate with you? You do not want to be constantly tracking down your attorney for updates on your case while you are trying to recover from your injuries.
When will the attorney expect payment? Most truck accident attorneys work on a contingency fee basis. This type of fee schedule requires the attorney to win a settlement before you must pay legal fees.
Do you feel comfortable with the attorney and his firm? Truck accident claims can take several months or even years to settle. During this time, you do not want to be working with an attorney that makes you uncomfortable or makes you worry about your claim.
What is the attorney's reputation online and in the Seattle courts? Before you even set up a consultation with a prospective attorney, review his online profile. If he has an AVVO profile, it will list if the Washington Bar association has taken any disciplinary action against him for violations of professional standards.
---
Contact a Washington Semi-Truck Accident Attorney Today
Attorney Max Meyers works with victims of Washington truck accidents helping them all get the compensation they deserve. Working with a Bothell truck accident lawyer provides you with a whole set of additional resources and skills that, in the end, will improve your chances of a more generous settlement. Having an attorney will also give you much greater peace of mind knowing the legal piece is being covered while you focus on recovering from your injuries.
If you've suffered injuries from an auto accident, contact our offices today or call us at 425-428-6052 to schedule a free consultation, we have proudly servicing clients throughout Bothell, Kirkland, and the surrounding areas.